---
PRICING

WB2REM & G4CDY'S
AMI-2
ALL MODE INTERFACE
ONLY IN KIT FORM


PRICING
AMI-2 KIT PRICING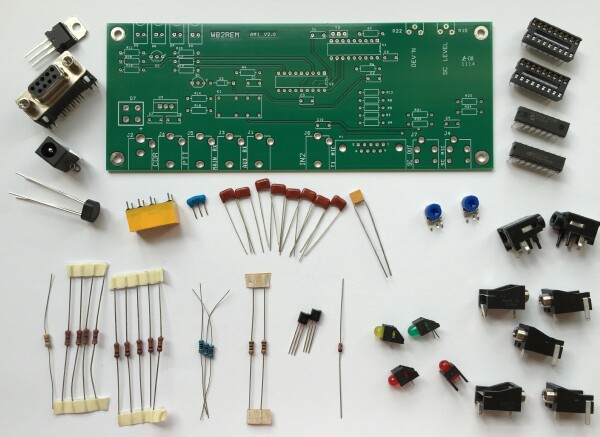 CREDIT CARDS ACCEPTED THROUGH PAYPAL (CLICK ADD TO CART)
PAYING BY CHECK, PRINT FORM, FILL OUT AND MAIL TO THE ADDRESS LISTED BELOW!
ALL BOARDS COME WITH PROGRAMMED PIC CHIPS & Work on ECHOLINK and other Sound Card Modes.
DESCRIPTION
PRICE
(each)
S&H
QTY
SUB TOTAL
AMI-2 Kit (All Parts-NO ENCLOSURE)
(USA ONLY)


$59 US

$ 10 Priority Mail

$ 69
AMI-2 Kit (All Parts-NO ENCLOSURE) (OVERSEAS INCLUDING CANADA)

$59 US


$33 International
USPS Priority Mail
$ 92
SHIPPING INFORMATION:
Name:
Call:
Address:
City:
State or Country:
Zip:
Email Address:
Please print and send a check or money order to :
Jim Millner, WB2REM, 7010 Gullotti Pl, Port St. Lucie, FL 34952
Note: I will ship boards to any part of the world. I also accept payment through PAYPAL(http://www.paypal.com) USER NAME: wb2rem@amsat.org. In the US add 20 dollars for overnight shipping (Please allow for 24 hours processing), email me that you have requested this and send the extra payment separately through my paypal account listed above. NO COD ACCEPTED.
Now Custom Microphone Cables Available For Most Amateur Radio's Except HT's.
Call For More Information.
If you have further questions or would like to inquire about an order send me an email: wb2rem@amsat.org